I'm sure  Tiong Bahru Bakery is no unfamiliar household name  representing the the gourmet and artisanal bakeries we have here. By now, you might have known about their third, latest outlet at Tangs Orchard but there are still more exciting news for all the lovers of Tiong Bahru Bakery out there. This time, they are dishing out a new lunch set, afternoon tea set and several new pastries as complements. Read on:
For those who've always wanted a proper meal even at a bakery, the Panini Lunch set ($9.90) might just be calling you. Choose from either the smoked salmon and cream cheese or bacon and mushroom curry which comes with freshly tossed Caesar salad as well. Available daily from 11.30am – 3pm.
Of course, emphasis is placed on the highlight – Cafe Gourmand set ($16). This is inspired from  the petit four which the French have for tea. The four items – a mixed berry tart, mini pear vanilla verrine, canele and brownie are specially picked by celebrity chef Gontran Cherrier (another namethat we are all familiar with) and served on this beautiful tile. Among the four, the canele and pear verrine were my favorite: the former had a tender custard center while the latter felt like an insanely sweet crumble atop mousse. The brownie was a tad too dry for me.  Get these tea sets from 3pm – 6pm daily!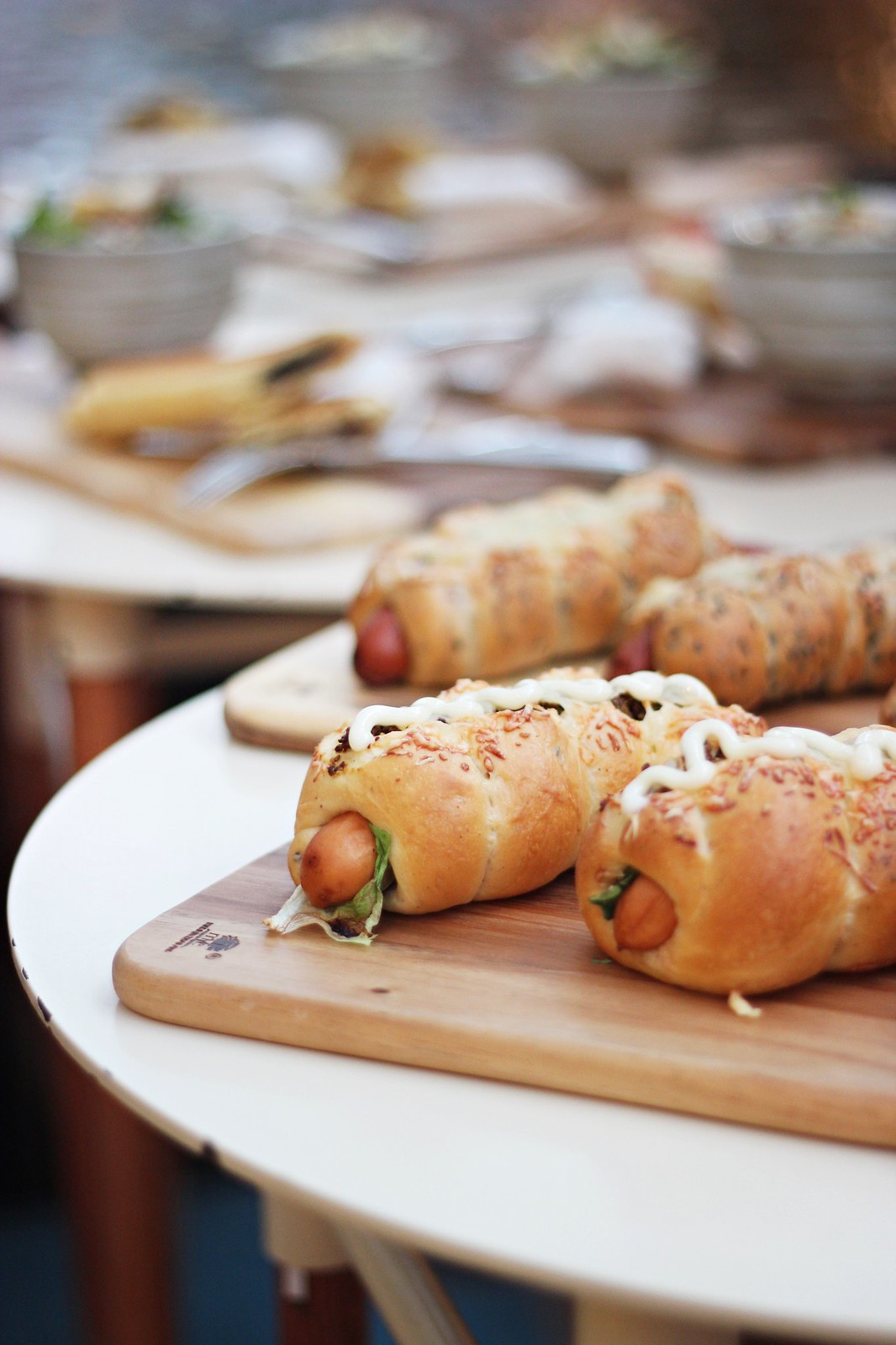 Finally… gourmet hot dog buns from Tiong Bahru Bakery! Sausage buns should never go out of trend so I'm glad they came up with not just one but two creations – the Spicy Pork Hotdog with Black Sesame Vienna ($5.30), which I felt was more interesting, and the Chicken Hotdog with Pepper Vienna ($5.30).
You might remember the chocolate and apple kouign amann editions that Tiong Bahru Bakery came up with. This time, they're launching a new Pistachio Apricot Kouign Amann ($4.50).  As a regular kouign amann consumer I was pretty dang excited to try out this delectable looking pastry with hints of green from pistachio and spots of orange apricot. I love how the pistachio was subtle and not overpowering the original flavor. Surprisingly the combination in this pastry did not make it too sweet.
Two new brioche creations are here too: the Green Tea Brioche with Almond and White Chocolate ($4.20) and Cranberry, Orange and White Chocolate Brioche ($4). Sadly the green tea brioche (not pictured here) was lacklustre as I could hardly taste neither the green tea nor white chocolate. It also gets somewhat mushy after some time. But the cranberry, orange and white chocolate brioche (pictured below) fared quite well. The texture was firm unlike the green tea version and the cranberry and orange enhanced the sweetness of the white chocolate with touches of citrus.
Similar to the mixed berry tart in the gourmand set is the Raspberry and Pistachio Cream Tart ($7.3). The main difference is of course the swap of strawberries with pistachio cream which I, somehow, preferred.
Overall, some creations were delightful while some paled in comparison, but one thing's for sure: Tiong Bahru Bakery is still a favorite which I'll never tire of.
#B1-11/12
Raffles City Shopping Centre
Singapore 179103
9am – 10pm daily